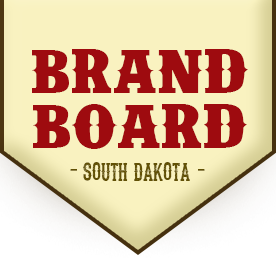 PART-TIME BRAND INSPECTOR positions - Various Locations Available
Inspect Livestock at livestock auction markets.
Wages plus Mileage and Meal Reimbursement.
Contact SD Brand
amy.hatheway@state.sd.us 605 773 3324
NOTICE
Beginning July 1, 2021,
HORSES going to a Nebraska Livestock Market,
need a SD Local Inspection prior to leaving SD.
SD no longer has an agreement with Nebraska for Horse Inspections.
Please call the SD Brand Board if you have questions
605 773 3324
If you believe your livestock has been stolen, contact the local Sheriff immediately.
Please click the "Inspections" tab, and then select "Missing Livestock" for a listing of the Sheriffs.
Shipper Permits may be obtained 48 hours in advance of shipment by contacting the SD Brand Board at 1 877 574 0054, an authorized agent, or brand inspector. Please select the Inspections Tab for a listing of Shipper Agents.

South Dakota Brand Laws apply

STATEWIDE.

It

is

a Class 1 Misdemeanor to hot iron brand livestock unless the brand is registered with the SD Brand Board.