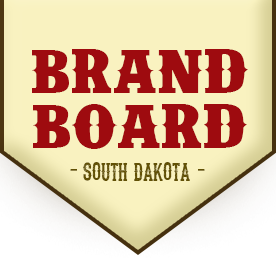 If you believe your livestock has been stolen, contact the local Sheriff immediately. Please click the "Inspections" tab, and then select "Missing Livestock" for a listing of the Sheriffs.
If you did not renew your brand by May 1, 2020, please contact the Brand Office for a Rerecord Brand Application form.

Any brands, not renewed, will not be available as abandoned brands until May 2022. The Brand Board is required to hold brands, not renewed during the renewal period, for a two year re-record period.

Shipper Permits may be obtained 48 hours in advance of shipment by contacting the SD Brand Board at 1 877 574 0054, an authorized agent, or brand inspector. Please select the Inspections Tab for a listing of Shipper Agents.

South Dakota Brand Laws apply

STATEWIDE.

It

is

a Class 1 Misdemeanor to hot iron brand livestock unless the brand is registered with the SD Brand Board.