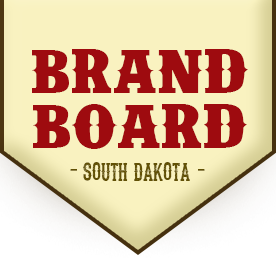 Horse Law
This summary of South Dakota Brand Laws is not a complete statement of the laws but is intended to make you aware of the important requirements of livestock ownership inspection and brand registration.
The South Dakota livestock ownership inspection area includes all counties west of the Missouri River. All livestock sold or removed from within the area are subject to ownership inspection. All livestock transported into the inspection area for grazing, show or pleasure purposes, must be inspected prior to removal from the inspection area.
Ownership Inspection
An Ownership Inspection of cattle, horses and mules is required prior to their sale, slaughter or removal from the South Dakota Livestock Ownership Inspection Area. This area includes all South Dakota Counties located west of the Missouri River.

An Inspector will look for brands and marks on the livestock to determine ownership. An inspection is required even though the animal may not be branded. Following the inspection, the owner will receive a Certificate of Inspection allowing for the sale or removal of the animal from the Inspection Area.

Failure to obtain an inspection of the livestock as required is a Class 1 Misdemeanor.
Fees
The brand inspection fee is $1.00 per head. An Inspector may also charge a mileage fee, based on the current State Rate, for miles traveled to make an inspection.
Permits
A livestock owner may obtain a permit to transport horses or mules into and from the Inspection Area.

Horse - Mule Lifetime Transportation Permit

To obtain a lifetime transportation permit, the owner must have the horse or mule inspected for brands and marks by an official Livestock Brand Inspector. The permit allows the owner to transport the animal described thereon from the South Dakota Livestock Inspection Area without additional inspection. The permit is valid for the life of the animal or until such time as a change in ownership occurs.

The lifetime transportation permit is not transferable and must be given to the Brand Inspector or sent to the South Dakota Brand Board when the animal is sold. The cost of the permit is $20.00 per head.

Annual Transportation Permit

An annual permit may be obtained by residents from out of the South Dakota Livestock Inspection Area allowing them to transport their horse or mule into and from the West River inspection area, for purposes other than for sale or trade, without obtaining an inspection. The permit is available from County Extension Agents located East of the Missouri River and at many horse camps throughout the Black Hills. The cost of this annual permit is $3.00 per head.
© Copyright 2017 - South Dakota State Brand Board