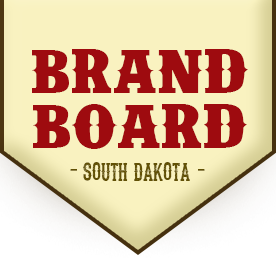 Brand Registration Information
There are over 25,000 brands currently registered in South Dakota. Brands for cattle, horses, mules, buffalo (American Bison) and sheep are registered separately and a separate fee is required for each location on which a brand is registered.
Brand Locations
Characters
Brand Examples
Fees
Cattle
right or left shoulder, rib or hip
Horses/Mules
right or left jaw, shoulder or hip
Buffalo
right or left hip
Sheep
Paint brands - right or left side or hip
Hot iron brands - nose or right or left jaw
Registered livestock brands in South Dakota must consist of two but not more than three letters, numbers or symbols.


Characters should be proportionate in size.


Only the vertical or horizontal positions of the following are acceptable for registration.


Tumbling characters are not allowed.
Note: There can be no brand within a brand. Ex. ® $
Capital print block letters of the alphabet, excluding the letter "Q". Letters may be lazy, reversed, or inverted. (See sample brands below)
A B C D E F G H I J K L M N O P R S T U V W X Y Z
Numbers two (2) through nine (9).

The following symbols:

Some Examples of various designs using the letters R and S are:

| | | |
| --- | --- | --- |
| Brand Application | $40.00 | Applications for livestock brands are researched and compared with other registered brands to avoid issuing a brand which is a duplicate of, or similar to, a previously registered brand. Applicants are notified of the results of the conflict check. |
| Brand Registration | $50.00 | PLUS $18.00 for each year remaining in current brand renew period. |
| Brand Transfer | $50.00 | This applies to any modification of the brand ownership as currently recorded. A transfer form is generated by the brand office. Please call the office when in need of a transfer. |
| Brand Renewal | $90.00 | Occurs every five years. Which are years ending in a 0 or 5 such as 2005, 2010, 2015.. All brands are subject to renewal between January 2 through May 1of the renewal year. To avoid cancellation, fees must be paid before May 1. |
| Brand History | $20.00 per brand | Starting March 1, 2009, the brand office will be charging $20 per brand for running a brand history and $1 per page for copies. If the history is extensive and takes over an hour to perform, $10 per hour will be charged for additional time over the first hour. Payment is required before history is delivered. |
© Copyright 2017 - South Dakota State Brand Board